In August, I reviewed the novel, Shadowland by C.M. Gray, so I was excited when he asked me to review his new book, The Flight of the Griffin. Once again, Gray has written a wonderful fantasy that sweeps you away to another land.
The Flight of the Griffin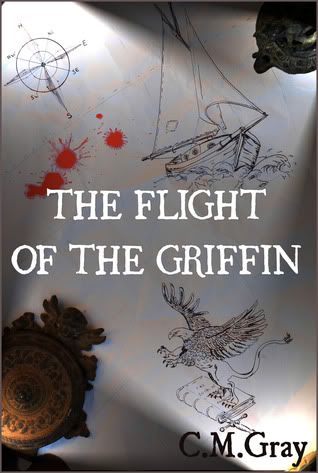 Living in their old boat 'The Griffin' four young characters and their guide become the unlikely heroes at the end of time when a burglary sets them on the path to finish the 'Last great Spell' - a spell to stop the balance of the World tipping into Chaos...

They become the Magician, Thief, Priest and Fighter when a magical book guides them upon a quest that pits them against magic, demons and 'The Hawk,' an evil hunter of men.

Join a race against time to find three crystal skulls that must be brought together, while all the forces of Chaos try everything to stop them!
The Flight of the Griffin is a tale about four young boys chosen for a quest to restore balance between Order and Chaos. Each boy receives a special power that aids the group on their journey, and a guide named, Mahra, who can transform from a young girl into a panther or owl. Mahra's ability to change is a great help on their journey. A greedy merchant, merciless bounty hunter, and demons are following the boys in hopes of stopping them before the group can reach their goal.
I truly enjoyed this magical story and the characters that author C.M. Gray brought to life. Along with traditional magicians, we meet sweet creatures called the Hidden, a caravan of entertaining travelers, and a princess eager to experience greatness beyond her ordinary life. I thought the griffin was a magnificent creature and loved its evolvement from a boat to a flying beast. Gray does a superb job in maintaining excitement and mystery throughout the adventurous story. He captures the innocence and bravery of the boys and how they are each a piece in the important puzzle of Order.
Get your copy: The Flight of the Griffin is available in paperback or Kindle Edition.
GIVEAWAY!
C.M. Gray has graciously offered an ebook copy of The Flight of the Griffin to one lucky reader. Enter for your chance to win.
a Rafflecopter giveaway